Special Events and Exhibits
Pay with PayPal
You can now pay for events and donations with PayPal! See the PayPal section on our Support page.
---
Cemetery Tour
October 1st, 1:00pm - 3:00pm
Come and enjoy a tour of two historic family cemeteries, with interesting stories about early Loveland area settlers. Registrations are due by Friday, September 23; cost is $10 for members, $15 for non-members. Send check to LMC or use PayPal (include name(s)).
---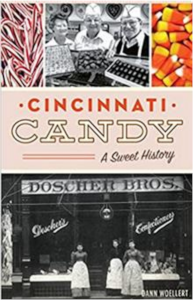 Lunch and Learn: Dann Woellert
November 2nd, 11:30pm - 1:30pm
Dann Woellert - Cincinnati Candy: A Sweet History, for all ages. Did you know that residents of Cincinnati developed a "sweet tooth" before the Civil War? Robert H. Putman provided decadent opera creams & rich fondant-filled chocolate and Doscher invented the French Chew and made caramel corn a baseball concession at Redland Field decades before Cracker Jack became synonymous with our national pastime. These are just a few facts you will learn from Woellert. Registrations required - Cost is $10 for members and $15 for non-members. Send check (or use PayPal) and name(s) to LMC, 201 Riverside Ave., Loveland.