Museum Facilities
JoAnn Richardson History House
Dedicated and opened in October 2000, this building is used for meetings, programs and special events by museum members and the community. A capital campaign drive of over $125,000, including a grant from the City of Loveland, made this building possible. The building was named for the late JoAnn Richardson who contributed her time and energy to the museum for five years as director and volunteer. Her vision helped relocate the Rich Log Cabin, the Gazebo and the dream for this building, in addition to starting many programs and events at the museum.
The 100' x 200' building is located directly behind Bonaventure. It has an occupancy of just under 100, catering kitchen, ADA compliant, computer access, audio/visual capabilities, and a limited number of tables and chairs. The History House is available for rental for small group meetings or workshops, special events, and other programs at reasonable rates.
Contact the museum for details and rental guidelines.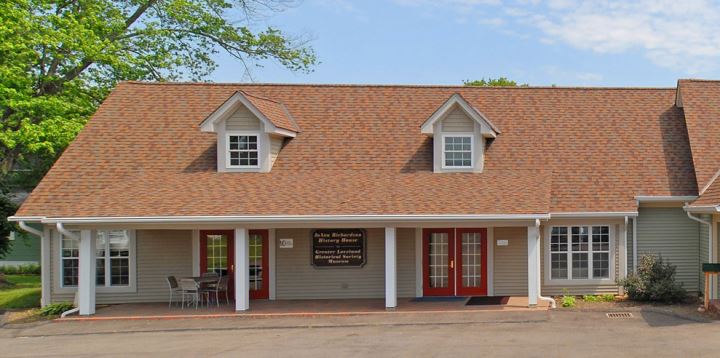 The Rosemary Nisbet Library
LMC opened a library when the museum opened the second floor of Bonaventure in 1986. It was used to house a large collection of historic books, records, archival materials, oral histories, local school annuals, bound copies of the local newspaper, and genealogy and other research books.
With a generous gift from Rosemary Nisbet, a new library was built, which opened in 2007. It houses not only all of the above, but includes a collection of the benefactor's cookbooks, Civil War books, and much more. Also available is information of some of the historic local sites, genealogy of a limited number of local families, and many pictures of Loveland's past. The library is open to members and the public by appointment only during the week.